Chopping vegetables for a delicious meal can be frustrating and time-consuming, but it doesn't have to be. With quality knives and the proper technique, meal prep can become simple. Even, dare I say, enjoyable.
That's why a Nakiri knife is an excellent addition to almost any kitchen. This Japanese knife makes chopping veggies a cinch. But Nakiri knives range in quality and price.
The Shun Classic Nakiri Vegetable Knife has it all: performance, durability, beauty, and versatility. But it costs more than other options. Additionally, if you're left-handed, another knife might be more comfortable.
Luckily, I've broken down the pros and cons of some popular Nakiri knives, as well as some helpful information on what to look for when buying a Nakiri knife. That way, you can get the best knife for your cooking needs.
Best Nakiri Knife
Shun Classic Nakiri
Best on a Budget
Tuo Nakiri
Best Upgrade
Shun Premier Nakiri
Users love the durability and performance of this high quality Nakiri. Of course this does come at a cost.
This budget Nakiri knife offers excellent value but may not last as long.
This is Shun's top of the range Nakiri. Top quality, top performance, but be prepared to pay for it.
Best Nakiri Knife
Users love the durability and performance of this high quality Nakiri. Of course this does come at a cost.
Best on a Budget
This budget Nakiri knife offers excellent value but may not last as long.
Best Upgrade
This is Shun's top of the range Nakiri. Top quality, top performance, but be prepared to pay for it.
To find out which Nakiri knife cuts the mustard (pun intended), keep reading to learn more.
Nakiri Knives: Product Reviews
Shun Classic Nakiri Knife: Best Overall
Shun is among the top name for Japanese kitchen knives, and this particular knife is a good example of why. This Shun 6.5-inch Nakiri knife (16.51 cm) features a premium blade with Shun's proprietary VG-MAX steel clad with 68 layers of Damascus steel.
This blade construction means this Nakiri knife has excellent rust resistance and edge retention.
The D-shaped handle is ebony pakkawood and has a comfortable grip. However, many customers report that the asymmetrical shape is not as comfortable for left-handers.
Users were impressed with how sharp this knife's blade is. They loved the performance of this Shun Classic Nakiri knife.
This knife is on the more expensive end, but its durability and performance will give you years of use.
Watch this video by Shun to introduce their Classic line:
Pros
Ebony pakkawood handle
VG-MAX steel blade
Sharp cutting edge
Long-lasting edge retention
Cons
Expensive
Not ideal for left-handers
TUO Japanese Nakiri Knife: Best on a Budget
TUO has been making knives for 20 years. This TUO Japanese vegetable knife features a German high-carbon stainless steel blade, with a mid-sized blade length of 6.5 inches (16.51 cm). It has a polished pakkawood handle that is full tang and ergonomic.
Users loved the balance and feel of this knife. They liked the attractive appearance and raved about its razor-sharp edge. In fact, several reviews said this is a "go-to knife."
On top of all that? You don't have to break the bank to own it. The Tuo Nakiri knife is very affordable.
Some users were disappointed this knife is made in China. Others wished it came with a holster for safe storing.
Overall, though? You'll get a lot of bang for your buck with this high-performing knife.
Pros
Razor-sharp
Beautiful appearance
Ergonomic handle
Affordable
Cons
Not made in Japan (made in China)
No holster for storage
Shun Premier Nakiri Knife: Best Splurge
This Nakiri knife comes from Shun's Premier line, which features hammered Damascus steel and a mirror blade polish.
Shun refers to this hammered finish as "tsuchime." The tsuchime finish prevents food from sticking by creating tiny air pockets between the blade and the food.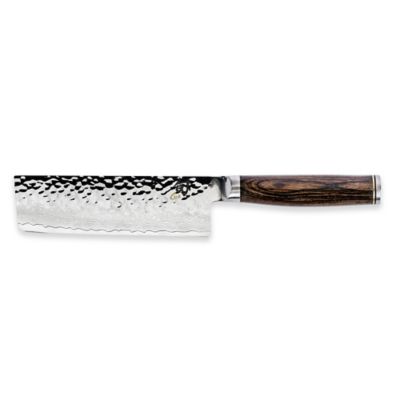 The Damascus steel is formed by layering different metal alloys to achieve maximum durability, hardness, flexibility, and sharpness.
This Nakiri knife's blade has a double bevel and a 16-degree blade angle. The blade length is 5 inches (12.7 cm), so it's on the smaller side. Still, you should be able to chop veggies without any problems.
The pakkawood handle is ergonomic and has a symmetrical grip for easy cutting. The walnut-colored wood has an embossed endcap that combines style and beauty in this stunning piece.
The Shun Premier Nakiri Knife has excellent performance and quality, but those come at a steep price. This splurge is the best Nakiri knife for those with a flexible budget and a desire for nothing but the best.
Learn more about the Premier line by watching Shun's short video:
Pros
Hammered Damascus blade
Razor-sharp
Comfortable handle
Cons
On the short side
Expensive
If you are looking to shop around then this knife is also available on Bed Bath and Beyond:
Imarku Japanese Nakiri Knife: Best Mid-Range
From Imarku comes this 7-inch (17.78 cm) Japanese knife. It features a flat edge blade made from German stainless steel with a hammered finish. This blade finish reduces suction and prevents food from sticking to the blade.
This hand-forged knife with mirror finish has a pakkawood handle that's ergonomic. The blade is sharp, with a 15-degree blade angle on each side.
Customers confirmed that this Imarku Nakiri knife is one sharp knife. Several were pleasantly surprised with the quality, given the affordable price tag. They liked the feel of this heavy knife.
Some were skeptical about the claim that this Nakiri knife is hand-forged, and others said the blade was too thick for their liking. On the whole, however, users were quite pleased with their Imarku Japanese knives.
Pros
Sharp knife
Comfortable handle
Affordable
Cons
Made in China
Thicker blade
If you are looking to shop around, then you check out this knife directly with the manufacturer.
Mercer Wooden Handle Japanese Vegetable Knife: Best Single Bevel
This 7-inch (17.78 cm) Mercer Nakiri knife features a blade construction of German high-carbon stainless steel that resists rust, corrosion, and discoloration.
This Nakiri knife is a single bevel, meaning it only cuts on one side of the knife. The single bevel and softer steel mean this is a good Nakiri knife for precise and delicate cuts. Leave tougher fruits and vegetables for other blades.
Users were pleased with this Mercer stainless steel Nakiri knife. The broad blade and sharp blade were perfect for sashimi and slicing veggies.
The biggest complaint? The handle is untreated wood, which is prone to staining and splintering with use.
Pros
German high carbon steel blade
Comfortable grip
Sharp
Affordable
Cons
Untreated wood on the handle
Softer steel not as durable
Mercer Santoprene Handle Nakiri Vegetable Knife: Best Budget Pick
For those who have a tight budget, this 7-inch (17.78 cm) Mercer Nakiri knife offers the benefits of a Nakiri vegetable knife at an accessible price point.
The plastic handle is a mix of Santoprene and polypropylene for comfort and durability. The handle has textured finger points and a protective finger guard to resist slipping and provide extra safety.
This Nakiri knife features a blade of high-carbon Japanese super steel. The blade is quite thin and decently flexible. Some Mercer Nakiri knife reviews thought the knife was too lightweight, but agreed the grip was comfortable.
Even though this knife is sharp out of the box, it won't hold the edge as long as other knives. Properly sharpening the blade will help preserve the edge.
Pros
Comfortable handle
Sharp
Good value, inexpensive
Cons
Lightweight
Not the best edge retention
DALSTRONG Nakiri Knife: Overall Runner-Up
A relative newcomer with a strong reputation, DALSTRONG offers a wide range of modern knives. This particular 7-inch (17.78 cm) Nakiri knife is sharp, with a 16-18 degree blade angle on each side.
The blade itself features a Granton edge, which has little pockets to keep food from sticking. It is constructed with high-carbon German steel. It's also double bevel and has a full tang for sharpness, balance, and durability.
The handle is triple-riveted with a full grip for maximum comfort. It consists of a G10 high-pressure fiberglass laminate.
Users were quite pleased with this DALSTRONG Nakiri knife and liked the hollow edge of the blade. They had no issues with food sticking to the blade while chopping.
Customers raved about the sharpness of this traditional Japanese vegetable cleaver. They liked the balance and feel, as well.
The only complaint? Some were not big fans of the bolster, the area where the blade meets the handle. They complained it was sharp in angle and sticks out slightly. This can be uncomfortable to hold, and it also shortens the usable part of the blade.
But all in all? This Nakiri knife had great reviews and excellent performance.
Pros
Good for beginners or experts
Granton edge to reduce sticking
Full tang
Triple-riveted handle
Anti-slip grip
Cons
Bolster is a bit sharp, gets in the way
Japanese Nakiri Knife Buying Guide
What is a Nakiri Knife?
A Nakiri knife is a Japanese-style knife used for mincing, dicing, and slicing vegetables. Resembling a miniature meat cleaver, the Nakiri knife has a symmetrical blade and a straight edge. Unlike the rocking motion of a Chef's knife, a Nakiri knife is best for an up-and-down motion. That means the Nakiri knife is great for cutting celery, carrots, onions, zucchini, and much more.
Is the Nakiri a Good Knife?
Nakiri knives are great additions to almost any kitchen. These knives are perfect for chopping vegetables quickly and efficiently.
Nakiri knives have thin blades, so they're better for delicate or precise cuts. Tougher cuts, like butchering meat or slicing through tough veggies, are better left to knives with thicker blades.
How to Pick a Good Nakiri Knife
Blade Material
The blade material is one of the most important things to look for in a Nakiri knife. The best Nakiri knives are made with quality high carbon steel.
Carbon steel is durable and has great edge retention, but it is more susceptible to rust. Stainless steel knives are rust-resistant and flexible but won't hold up to use as well as carbon steel.
One thing that distinguishes Japanese-style knives from Western knives is cladding. Unlike Western knives, which are constructed with a single piece of steel, high-quality Japanese knives typically have a high-carbon core that's clad in stainless steel to protect against rust.
The resulting layers become Japanese super steel that has sharpness, durability, and flexibility. Sometimes this clad steel has a hammered finish to produce air pockets. These pockets prevent food from adhering to the blade.
Blade Sharpness
A high-quality knife will have a razor-sharp blade that can cut thin slices without warping from normal wear and tear.
Blade sharpness is described using the blade angle to which a knife is sharpened. The lower the angle, the sharper the blade. The higher the angle, the more durable the knife. Many Nakiri knives are sharpened to a blade angle somewhere between 14-17 degrees on each side.
Another thing to consider is the bevel. The bevel refers to the side with a sharp edge. Traditional Japanese knives might have a single bevel, where only one side cuts. Most modern knives, however, have a double bevel. A double bevel gives you maximum cutting power.
Tang
Tang is a measure of how far the blade extends into the handle. Full Tang means all the way which is superior in terms of performance and durability but normally costs more.
Handle & Grip
The best Nakiri knife will have a handle that is comfortable, safe, and durable. A comfortable grip is essential to any kitchen knife. Look for an ergonomic design for maximum comfort.
Slippery knife handles can be dangerous, so choose a knife with a non-slip handle. Wood handles are among the most common for Nakiri knives.
Woodend handles are comfortable and attractive, but they're prone to cracking and will require more maintenance. A synthetic handle will require less maintenance, but it could become slippery when wet.
Ease of Cleaning
Most Nakiri knives are not safe for the dishwasher. To keep your blade at its best, hand wash your Nakiri knife promptly after each use. Be sure to use caution when handling a wet knife. After washing, either dry with a towel or let air dry.
After cleaning, store your Nakiri knife in a knife block, the original box, or on a magnetic strip. You don't want sharp blades to lie exposed.
What Size Nakiri Knife is Best?
Nakiri knives come with various blade lengths, but generally anywhere from 6-7 inches (15.24-17.78 cm) is the most common. That length will give you good balance, a firm grip, and the maximum area of cutting along the straight blade.
What's the Difference Between a Nakiri Knife and a Santoku Knife?
A Nakiri knife is used primarily for cutting vegetables and other food that requires precise cuts. It features a rectangular blade with a straight edge. The blade design allows you to cut thin, even slices.
A Santoku knife is a well-balanced multipurpose knife. It can be used for chopping vegetables or slicing meat and fish. It has a flat blade and is similar in size to a Nakiri. But it has a pointed tip and a little more weight to it.
Both Santoku and Nakiri knives are popular kitchen knives in Japanese and Western homes, alike.
What is Katsura Muki?
Katsura Muki is a technique for cutting thin sheets of vegetables, especially the daikon radish. The radish is then chopped and used as a garnish for sashimi or other popular Japanese dishes. Young Japanese chefs will often purchase their own vegetables to practice Katsura Muki.
For those that want the results without learning the technique, there are katsuramuki slicing machines that can be purchased.
Nakiri Knife Basics, How to Use It
One important thing to remember is that a Nakiri knife is not like a chef's knife. Are both a Chef knife and Nakiri knife good for cutting veggies? Sure, but the cutting technique you use could be the difference between a happy customer and a dull or chipped Nakiri knife.
To cut with a Nakiri knife, use an up-and-down motion, as opposed to the rocking motion you use with a Chef knife. For safety, slide the top part of the knife against your knuckles as a guide. Keep your fingers slightly behind your knuckles to prevent cutting your fingers. Safety first!
It is also important to use a wooden cutting board. Using other materials, like glass, under the knife will quickly dull the cutting edge, whereas a wooden cutting board will absorb the cuts and protect the blade edge.
Lastly, it's essential to properly sharpen your Nakiri knife. A Nakiri has a sharper blade than many Western knives. But the finer edge means sharpening it incorrectly could cause damage to the blade.
Each knife has different requirements and best practices. To find out what sharpening method you should use at which angle, consult the manufacturer or product description. If in doubt, you can always send your knife to a professional knife sharpener for the best results.
To learn more, watch Chris Cosentino from Williams Sonoma demonstrate how to use a Shun Classic Nakiri knife:
Best Nakiri Knife: My Recommendation
Want the best Japanese Nakiri knife for your kitchen? I'd go with the Shun Classic Nakiri Vegetable Knife. It's one of the best Nakiri knives, even though it has a higher price point. The performance and long-lasting edge are top-notch.
If you want the overall best value? I'd go with the TUO Nakiri knife. It will give you a lot of benefits at an affordable price.